Binary Hash
$ sha1sum Croc2.exe
c7e9ed848e311706dde83116fd122a0b28b99261  Croc2.exe

Embedded Music Table
croc2exemusictable.bt
 1


 2


 3


 4


 5


 6


 7


 8


 9


10


11


12


13


14


15


16


17


18


19


20


21


22


23


24


25


26


LittleEndian();


FSeek(0xA46FC);





typedef

 

struct

 {


    uint32 flags;


    

char

 filename[12];


    uint32 unk;


    uint32 nameptr <format=hex>;





    local uint32 pos = FTell();





    FSeek(nameptr - 0x400000);


    string name;





    FSeek(pos);


    uint32 unk2<format=hex>;


} musicdef<read=xxread>;





string xxread(musicdef& d)


{


    string s;


    SPrintf(s, 

"[%s] - [%s]"

, d.filename, d.name);
    

return

 s;


}





musicdef music[47]<optimize=false>;

| Struct | File | Title | Offset | Size |
| --- | --- | --- | --- | --- |
| struct musicdef music[0] | | No Track | A46FCh | 28 |
| struct musicdef music[1] | JHUB1 | Hub Tribe 1 | A4718h | 28 |
| struct musicdef music[2] | KWATERFALL | Waterfall | A4734h | 28 |
| struct musicdef music[3] | CBK2 | Cannon Boat Keith | A4750h | 28 |
| struct musicdef music[4] | KBARREN3 | Barren Three | A476Ch | 28 |
| struct musicdef music[5] | JMINE2 | The Mine | A4788h | 28 |
| struct musicdef music[6] | KCAVE1 | Cave One | A47A4h | 28 |
| struct musicdef music[7] | JICECAVE | Ice Cave | A47C0h | 28 |
| struct musicdef music[8] | KJUNGLE3 | Jungle Two | A47DCh | 28 |
| struct musicdef music[9] | JBARREN1 | Barren Wheels One | A47F8h | 28 |
| struct musicdef music[10] | KDANTE1 | Dante One | A4814h | 28 |
| struct musicdef music[11] | KCMCAVE | Caveman Cave One | A4830h | 28 |
| struct musicdef music[12] | KSOVEENA | Soveena | A484Ch | 28 |
| struct musicdef music[13] | KBARREN1 | Barren Wheels Two | A4868h | 28 |
| struct musicdef music[14] | KGLIDE | Glider | A4884h | 28 |
| struct musicdef music[15] | KLLLARRY | Lava Lamp Larry | A48A0h | 28 |
| struct musicdef music[16] | JBARREN2 | Forest Barren | A48BCh | 28 |
| struct musicdef music[17] | JICE2 | Ice Land | A48D8h | 28 |
| struct musicdef music[18] | JJUNGLE3 | Find The Key | A48F4h | 28 |
| struct musicdef music[19] | KSNOWBALL | Snowball | A4910h | 28 |
| struct musicdef music[20] | JTHIEFJUNGLE | Thief Jungle | A492Ch | 28 |
| struct musicdef music[21] | JTHIEFCAVE | Thief Cave | A4948h | 28 |
| struct musicdef music[22] | JGOLDROCK | Gold Rock Race | A4964h | 28 |
| struct musicdef music[23] | JICECAVE | Ice Cave One | A4980h | 28 |
| struct musicdef music[24] | CHOOCAVE | Choo Cave | A499Ch | 28 |
| struct musicdef music[25] | CHOOOUT | Choo Outside | A49B8h | 28 |
| struct musicdef music[26] | KRIVERRACE | River Race | A49D4h | 28 |
| struct musicdef music[27] | KDANTE2 | Dante Two | A49F0h | 28 |
| struct musicdef music[28] | GTOWER | Goo Manchoo Tower | A4A0Ch | 28 |
| struct musicdef music[29] | CBKLEAD | CBK Lead Up | A4A28h | 28 |
| struct musicdef music[30] | KFLAVIO | Flavio | A4A44h | 28 |
| struct musicdef music[31] | KDUNGEON | Dungeon | A4A60h | 28 |
| struct musicdef music[32] | JINCA1 | Inca Babies One | A4A7Ch | 28 |
| struct musicdef music[33] | JHUB2 | Hub Tribe 4 | A4A98h | 28 |
| struct musicdef music[34] | JHUB1 | Hub Tribe 3 | A4AB4h | 28 |
| struct musicdef music[35] | KMASHER | Masher | A4AD0h | 28 |
| struct musicdef music[36] | JREDANT1 | Red Ant Lair | A4AECh | 28 |
| struct musicdef music[37] | JREDANT120 | Red Ant Bomb | A4B08h | 28 |
| struct musicdef music[38] | KINCACAVE | Inca Babies Two | A4B24h | 28 |
| struct musicdef music[39] | JHUB2 | Hub Tribe 2 | A4B40h | 28 |
| struct musicdef music[40] | JVENUS | Venus | A4B5Ch | 28 |
| struct musicdef music[41] | JVENUSLEAD | Venus Lead Up | A4B78h | 28 |
| struct musicdef music[42] | KMASHERLEAD | Masher Lead Up | A4B94h | 28 |
| struct musicdef music[43] | JTITLE | Croc's Theme | A4BB0h | 28 |
| struct musicdef music[44] | KCMCAVE2 | Caveman Cave Two | A4BCCh | 28 |
| struct musicdef music[45] | KSOVEENALEAD | Soveena Lead Up | A4BE8h | 28 |
| struct musicdef music[46] | JREDANT25 | Red Ant Fast Lair | A4C04h | 28 |
Notes
There's a few duplicate entries for JHUB1 and JHUB2. Presumably there was going to be different music for the Caveman and Inca tribes, but they ran out of time.
Most files start with either J- or K-. I would assume these were short for the composers, i.e. Justin Scharvona or Karen Griffin.
Missing Track Restoration
The PSX version has an extra music track that's missing from the PC version.
The plan was to change the track ID in the Caveman and Inca tribe maps to reference those of the Forest and Snow tribes which frees up two slots in the table. Then, replace one of the free slots with the missing track, update the respective map header, then encode the missing track to a format readable by the game.
However, I encountered some difficulties during encoding. The Argonaut ADPCM codec can't accurately represent some parts of the waveform, manifesting as clicking and static noises during playback. This is probably the reason it was excluded originally.
For comparison, see below: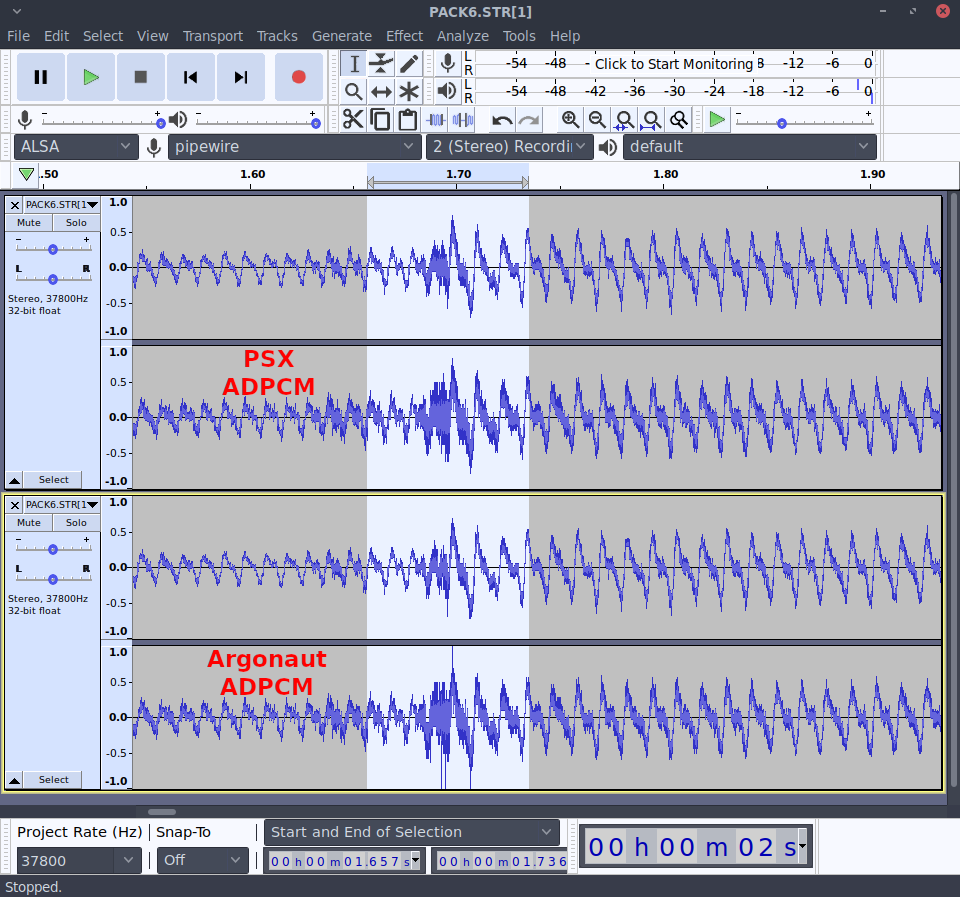 For posterity, here's links to the files: